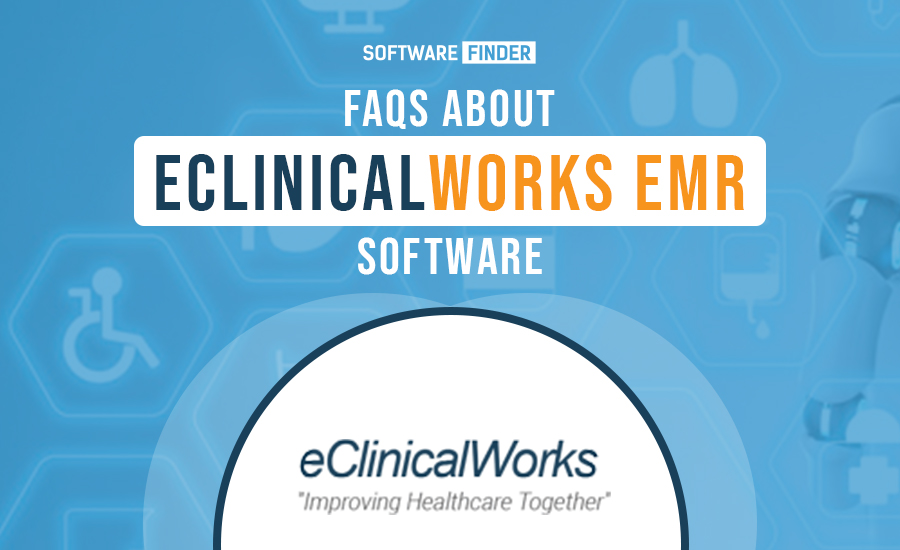 eClinicalWorks EMR Software – Overview  
eClinicalWorks EMR is a web-based service provider specializing in cloud-based healthcare IT solutions that lower costs, eliminate errors, and increase care quality. A full-featured EMR software, practice management, revenue cycle management, patient experience, managed billing and telemedicine services are eClinicalWorks offerings. 
eClinicalWorks EMR came into reality in 1999 with a single goal in mind: to make clinics paperless and offer every connection they would require. However, with groundbreaking features like Eva and Healow, they've developed into a far more significant participant in the healthcare IT sector. 
eClinicalWorks EMR Pricing   
According to eClinicalWorks EMR reviews, the software pricing is a little high, and it can be expensive to operate for solo practitioners. The software's most basic tier costs around $449 per person and can go up depending on how many providers will be accessing the software. 
While the eClinicalWorks pricing is high, you have access to capabilities you wouldn't have had exposure to otherwise, and the software more than compensates for the pricing with the number of services it can do for you! 
eClinicalWorks – Frequently Asked Questions  
What are the unique features offered by the software? 
According to eClinicalWorks EMR reviews, Eva is one of the system's most notable features. Eva is the medical industry's first built-in virtual assistant, assisting you in saving time and increasing productivity by avoiding unnecessary clicks. In addition, it's straightforward to schedule an appointment with Eva. Eva also allows you to compare test results, evaluate flowsheets, and verify medical information.  
Furthermore, eClinicalWorks EMR offers educational material for patients via various patient learning devices to assist you and your patients with clinically accurate diagnostic papers. This educational information keeps them informed and helps them in improving their performance.  
Does eClinicalWorks EMR Software offer interoperability? 
Yes, users appreciate the interoperability offered by eClinicalWorks EMR. You may easily send and receive patient data with eClinicalWorks EMR software without the worry of information leaking. Furthermore, thanks to the HIPPA-compliant EMR software, you won't have to worry about data breaches or hacking. You can also use conference calls to keep your patient from having to travel far.  
How does eClinicalWorks EMR help with digital patient records? 
Medical records on paper were once widespread, but they are no longer usable in the digital age. To meet all security requirements and have quick access to your patient's data, you must digitize your records utilizing eClinicalWorks EMR software. eClinicalWorks EMR software includes practice management software, medical billing, population health, and patient involvement modules to help you streamline your workflow.  
Can we access the eClinical Works on the cloud? 
In today's cloud-based world, your employees need secure access to their EMR from anywhere. The cloud based EMR of eClinicalWorks allows you to access eClinicalWorks and other capabilities not otherwise available using the Google Chrome Browser. Furthermore, you can keep track of everything, even if you are not physically present at your office.  
Can we prescribe medications digitally with eClinicalWorks EMR? 
eClinicalWorks EMR helps by giving an updated e-prescription feature. You can send a digital prescription to any pharmacy right away using eClinicalWorks EMR. Then, your patients will be able to pick it up at any time. You can also track each patient's medicine and see if they have any allergic reactions to the medications they're taking. Additionally, this feature allows you to sign refill requests while on the move. The price, according to users, is well worth all of these fantastic features.  
Is there a Mobile App for eClinicalWorks EMR Software? 
With the iPad software "eClinicalTouch," you may access patient records, refill prescriptions, report meetings, and plan future sessions. Although the mobile app is limited compared to the web/desktop version, it helps your suppliers and workers communicate and work more efficiently. 
"eClinicalMobile" is another mobile software that allows you to view patient data from your phone. Even if it's limited, it has essential features like the option to use "Speech" to transcribe your notes in eClinicalWorks EMR. During the eClinicalWorks EMR demo, you can witness all of the benefits.  
Does eClinicalWorks EMR Software offer virtual visits? 
The telehealth service provided by eClinicalWorks EMR is a valuable tool, especially during times like COVID-19. With eClinicalWorks Telehealth, you may use video conferencing software to contact your patients at any time and from any place. Thus, you can treat patients virtually through televisits. Patients can also benefit from the ease of being able to stay at home. Furthermore, because it complies with HIPPA rules, this function is safe and secure. 
Is it possible to integrate eClinicalWorks Software with clearinghouses? 
Yes, eClinicalWorks allows you to integrate the EMR software with clearinghouses. eClinicalWorks connects with clearinghouse interfaces to make payer procedures easier, assess insurance eligibility before providing care, and submit and track claims in real-time. 
Does the software provide a free demo? 
Yes, you may schedule a demo of eClinicalWorks EMR before purchasing it. According to eClinicalWorks EMR reviews, users should strongly consider acquiring a software demo. A demo is a short presentation of the software. You can examine a variety of software features in the current healthcare situation with the aid of the EMR demo. Simply go to the official eClinicalWorks website and register yourself or your firm to receive a free demo. 
Our Final Thoughts About eClinicalWorks EMR Software? 
The eClinicalWorks EMR is well-known among healthcare practitioners for its ability to streamline various processes. As a result, medical practice has been transformed by this software. Therefore, eClinicalWorks also includes several powerful features that can help your medical practice grow financially and clinically. We hope that after reading this comprehensive eClinicalWorks review, you will be able to make an informed decision. 
Furthermore, reading EMR reviews might aid in gaining a better understanding of the product. Finally, booking an eClinicalWorks EMR demo and seeing the capabilities in person might also help you make an informed decision.