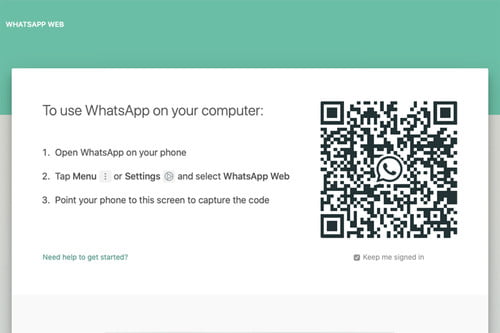 Many smartphone users prefer WhatsApp to other messaging apps. Every day, more than 100 billion messages are sent on the platform, but if your battery dies or you don't have your phone with you, you may find yourself isolated and unable to view your messages.
You may use the WhatsApp app on up to four 'companion devices' thanks to the new multi-device feature (which is currently in beta). Other phones aren't allowed, but there is a loophole if you truly want to use WhatsApp on two devices. Computers (using WhatsApp Web or the desktop app) or a Facebook Portal are required instead. While it is possible to install WhatsApp on a tablet, we do not recommend it.
Because WhatsApp is created for phones, the web and desktop apps are meant to complement, not replace, your mobile app. WhatsApp allows you to send messages from your browser or desktop, but you can only make calls from your phone. You must have WhatsApp installed on your phone and an account set up in order to use WhatsApp in your browser or on your PC. The browser and desktop apps must then be connected to WhatsApp on your phone. To utilise the online and desktop apps and sync your messages across platforms, your phone must have an active internet connection. Finally, keep in mind that you can only sign into one browser or desktop app at a time.
How to access WhatsApp Web via browser on a PC or laptop
Launch WhatsApp on your phone, then press the three dots icon (or the setting cog on an iPhone) and select Linked Devices.
Select 'Link a Device' from the drop-down menu.
Go to www.whatsapp.com with your preferred web browser on the device where you want to use WhatsApp.
If you wish to access it from your tablet, it'll work with Safari on the iPad.
On your tablet or PC display, you should now see a QR code; aim your phone camera at it to connect the two.
WhatsApp Web will open in your browser by default and will remain active until you log out on your computer or phone.
On your phone, return to the Linked Devices screen in Settings, press on the device, and choose Log Out. You can also log out in the browser window by clicking the three dots icon at the top of the discussion list and choosing 'Log out.'
How to install the WhatsApp desktop app
Rather than using the browser, the WhatsApp Web desktop app for PC or Mac that adds added features like complete notification support for desktop chatters. It's the easier alternative if you'll be using WhatsApp Web frequently, and you can get it right now at whatsapp.com/download.
To download the installer file to your computer, click on the green Download button. Once the file has been downloaded, double-click it to install it (it should be in your Downloads folder).
Follow the steps in the installer on a Windows PC, and to complete the setup on a Mac, simply drop the WhatsApp icon into your Applications folder.
When you open the WhatsApp desktop programme, you'll get a nearly identical WhatsApp Web experience. You'll be asked to scan a QR code, just like in the browser version, so take your phone, open the settings menu, and select Linked Devices. Then, using the phone's camera, point it at the QR code that appears onscreen.
The desktop software will keep you locked into WhatsApp until you choose to log out, just like the browser app does. You can now connect with your WhatsApp Web friends on your PC or laptop, replete with the ability to send and receive media and more, as well as enter messages considerably faster on a computer keyboard.
That's all I've got to say about the subject. Remember to join the multi-device beta if you want to connect to more than one device.
Also, refer to the helpful content on How to delete DoorDash account?
Conclusion
You'll also discover your archived chats, another way to access your profile and status, and the ability to establish a new group in the drop-down menu. This menu also contains the settings, which include access to any blocked contacts and notification preferences, such as turning sound on or off and whether or not to show previews.
Hovering over each individual chat in the main screen will reveal a little arrow with a few more options when you hover over it. From here, you can archive, pin, mute, delete, or mark a chat as unread.