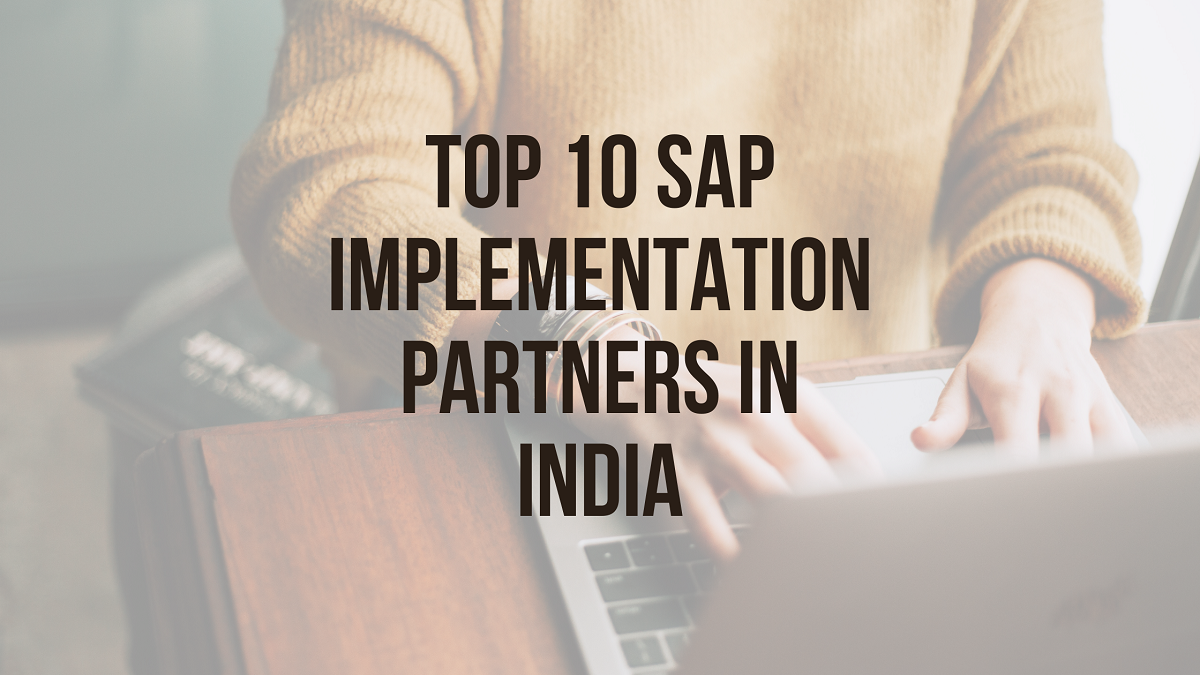 You are here, which means you are looking for the best SAP Implementation partners in India for your organization. 
To make your path easy, we came up with this blog. In this write-up, I list down top 10 SAP Implementation partners in India. Hope this recommendation helps you to ramp up your business processes.
As we all know, SAP is a renowned firm that offers incredible Enterprise Resource Planning (ERP) solutions. They are designed for startup, small, medium and large enterprises. SAP facilitates three main ERPs. It includes the most popular SAP Business One, Cloud-based Bydesign, and S/4 Hana. All these solutions can smoothly automate the critical business processes. For example, sales, financials, customer relationship management, distribution, and manufacturing.
The SAP Implementation Partners in India, which I listed down catered every industry. So it doesn't matter which industry your business belongs to; these implementation partners can help you.
I have ensured that all the implementation companies mentioned below will provide a free SAP demo. Thus,  you can get the opportunity to analyze what they are providing. And how their services can facilitate your business.
So, let's get started!
Read – How to recover deleted photos from camera
List of SAP Implementation Partners in India – Top 10 
In the following section, you will explore the top companies who are providing excellent SAP end-to-end solutions. We start the list with the star performer – Cinntra Infotech. 
Cinntra InfoTech – Star of SAP Solutions Industry
Let's start with Cinntra InfoTech which is one of my personal favourite ERP Partners. In a very short span of time, the company get the award of SAP Impact Partner in India. This is the reason they are on the list at the beginning.  There are numerous reasons why I like Cinntra InfoTech as an SAP Implementation Partner that I can't explain in this single blog. But if I have to give some reason, then the main thing is that Cinntra is the one-stop shop.
They are partnered with all popular ERP providers – SAP, Microsoft, and Oracle Gold Partner. Apart from SAP ERP implementation, the cinntra has a vast service portfolio. Major one are – 
CRM – BRIDGE

POS Software – PEDLAR

HR Management Software

SAP End-to-end solutions

Oracle NetSuite Solution

Fusion Solution

Oracle EBS Solution

Microsoft Dynamics Solution

Business Consulting Services 

Application Development

Website Development

Cloud Services

QA

DevOps
And much more..
They are also very transparent about their services. In the SAP free demo only, they explain how they can be helpful for your organization. Not only for ERP Implementation, but they have lots of essential services with which they can help your organization without delay.
These are the companies bellow who are using there all kind of services of Cinntra InfoTech :-
ALDI

Apex

Big Erics Inc

ADS

Cuckoo Appliances Pvt. Ltd.

Faridabad Steel Mongers

Libra International

Radhika Height

Surya Spring

Sun Group (Luxury Personified Ltd.)

Vizin

Apex Projects / Apex HVAC Services.

Intex Fashion

Three D Integrated Solution

Pluss Advanced Technologies

Essen International

LIT India Pvt. Ltd.

IA Multi Ventures

Kafila (KFL Tradelinks)

Space World

Gogo Transworld Enterprises

San Auto Engineers (India) Pvt. Ltd.

WAE

Rapi Pay

S N Brothers

CD Electronic Junction Pvt. Ltd. (B2BE.com)

KS-AGRO

Hi-Tech

Big Steel Box

Opal (Cityon System)

Big Erics
These are just a few satisfied companies who have been using Cinntra's services in their organization for so long. To get the service, write down to marketing@cinntra.com. 
The next company name in the list of SAP Implementation partners in India is Aatral technologies. They also offer excellent SAP solutions. Which help businesses gain value from their investment while taking complete account of their business goals and operational processes.
They offer SAP Implementation services to ensure that the system derives business benefits and functional value to your organization.
A provider of IT/ERP products to industries such as health, urbanization, emergency/disaster management, and higher education using an established back-end engine such as SAP.
An Experienced ERP consultant is considered the best SAP Implementation Partner so far in the market because they have various other services which can help your business grow.
An SAP consulting partner also provides outsourcing and Information Technology services that focus specifically on SAP applications and technology, undoubtedly enhancing your business.
They offer SAP implementation services, including other services like program management, assessment, package selection, functional and technical development, configuration, testing, training, and post-implementation support.
An SAP partner that provides complete SAP implementation solutions to their customers who want to purchase put into effect, screen and hold medium to high SAP environments.
An old SAP implementation partner and specialist of the mobile application development company assisted the organization in integrating mobile applications with SAP solutions.
An SAP Implementation Partner is also a provider of expert consulting and focused solutions in SAP implementation, Annual Maintenance & Support, Upgrades, Training and Migration Services.
Bringing It All Together
As per the above list of Top 10 SAP Implementation Partners in India, we have discussed how these organizations can help your business grow. But what we didn't discuss is;
Are these services affordable enough for small and medium enterprises to purchase for their organization?
Nowadays, ERP is required for every organization, whether the organization is Big or Small. But the problem is Big Enterprise can afford all the ERP or other required things to make their organization fast. But, when we talk about small and medium-size organizations, they have a specific budget in which they have to organize their business effectively.
So the answer is that SAP introduced SAP Business One ERP Solution for Small & Medium-size organizations.
But the situation is still the same because maximum partners who provide SAP B1 are getting additional amounts other than implementation cost.
Hence, the answer to all the questions is Cinntra InfoTech. This is the reason why they are on the No. 1 spot in my list and my personal preference.
In conclusion, I just want to address that all the listings and other details which I have provided above are tried and tested in many organizations. So if any of you is looking for SAP Implementation Partners in India for your organization, then you can trust on the given data and grow your business a lot faster than before.