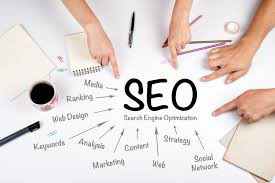 In blogging, one important aspect among all aspect is SEO (search engine optimization). If you want to rank high and get organic traffic from search engine such as google, bing, yandex and even baidu which is the most search engine tools in China, then you need to read this article.
On this, we will share you the latest tips on WordPress SEO for beginners and how you can get traffic from search engine, don't panic if you follow this guild you will get ultimate traffic from search engines especially from google.
We all know that SEO is friendly, but you can't jump into this until you learn how to start a unique WordPress blog. So you need to learn what WordPress is from the scratch then you will be able to understand WordPress SEO.
Search engine optimization (SEO) is the process of optimizing your online content so that a search engine likes to show it as a top result for searches of a certain keyword. To explain better, it is a way to target keywords so as to rank high on search engine.
SEO for beginners is not about tricks or gambling, it is about how you optimize your codes or post either on page or off page. So Search engine optimization is not a day job, you need to keep optimizing your existing post so as to rank high on search engine.
Am not saying you must be a tech master in it, you just need a little technical learning so as to be able to optimize your content as a beginner. Then later you become a scholar in it.
Let see how we can optimize your Website
Tips on How to Optimize your Website for SEO
Is your site visible on WordPress dashboard?
The first thing you need to check is if your website is visible, you will be like how come, yes! WordPress has the ability to hide your website from search engines. So you must check if search engines have access to your page from WordPress dashboard
Just click settings on your dashboard and then click on Reading then you will see discourage search engines from indexing this site, don't mark that, just leave it as it is.
By using SEO Friendly URL Structures in WordPress
One of the reason why most SEO expert agree that SEO is friendly is because of the structure of the URL, because it contain some words that defines the content, easy to read by search engines and humans. Should we give you some examples? Okay!
like this URL;
https://wpressbeginner.com/best-wordpress-theme/
https://wpressbeginner.com/start-a-easy-wordpress-blog/
From the above italic you will see how friendly the URL is, it will be very easy for search engines and humans to read, and it improves your chance to rank better on any search engine.
To do this, just go to Settings on your dashboard, then click on permalinks and finally click on Post name then you save.
If your website has been running for more than 5 months, then please don't change your permalink structure. If you're using Day and Name or Month and Name, continue using that.
By changing your permalink structure on an established site, you will lose all of your social media share count and run the risk of losing your existing SEO ranking.
If you must change your permalink structure, then hire a professional, so they can setup proper redirects. You'll still lose your social share counts on the pages.
It once happen to me on one of my website then.
SEO Plugins for WordPress
When we are talking about plugins, we are talking plugins that are installed on your WordPress site but when SEO is added to it then we are relating it to search engine. In SEO, we have lots of SEO plugins to optimize your content and to increase your visibility on search engine such as;
Yoast SEO.
All in One SEO Pack.
Rank Math
The SEO frame work
Premium SEO Pack
Google XML sitemap
Jetpack
Simple sitemap
Adding your sitemap to Search Console
If you call something search engine then it have a console which is called search console. Search Console is a free service offered by search engines that helps you monitor, maintain, and troubleshoot your site's presence in Search results. We have lots of search console but the major onces are;
Google search console
Bing search console
Yandex search console
Baidu search console
And many more
All this information helps you understand what's working on your website and what's not. You can then plan your content strategy accordingly.
Search Console also alerts you when there is something wrong with your website, like when search crawlers are unable to access it, find duplicate content, vital core problem or restricted resources.
Blog post for Search Engine Optimization
In just writing your post for SEO, you need to have good content which is suitable for search engine and users.
All top SEO plugins allow you to add a title, description, and focus keyword to every blog post and page. It also shows you a preview of what users will see when they Google your website.
We recommend that you optimize your title and description to get maximum clicks that why we advice you to use yoast premium or Rank Math SEO.
I think you should remember I said SEO is divided into two and they are on page SEO and off page SEO. Yes, you should remember, all what am about to explain is off page SEO. The thing you should do is;
Keyword Research
Keyword research is a research technique used by content creators and SEO experts. It helps you discover words users enter into search engines to find content, products, and services in your industry.
Many younger blogger just use their head to guess which keywords they want to rank for without doing research. There are lots of keyword research finders they can use, we have;
Soovle.
Jaaxy.
Google Search Console.
Ahrefs Keywords Explorer.
SECockpit.
Google Keyword Planner.
KeywordTool.io.
Moz Keyword Explorer.
Semrush
And many more.